Chateau in the landscapes of Provence and 'le Massif des Alpilles' – France – landscape and planting design around a Countryside Chateau surrounded by productive fields, olive and almond groves framed by a beautiful structure of cypresses and plane trees lanes  –  ongoing
---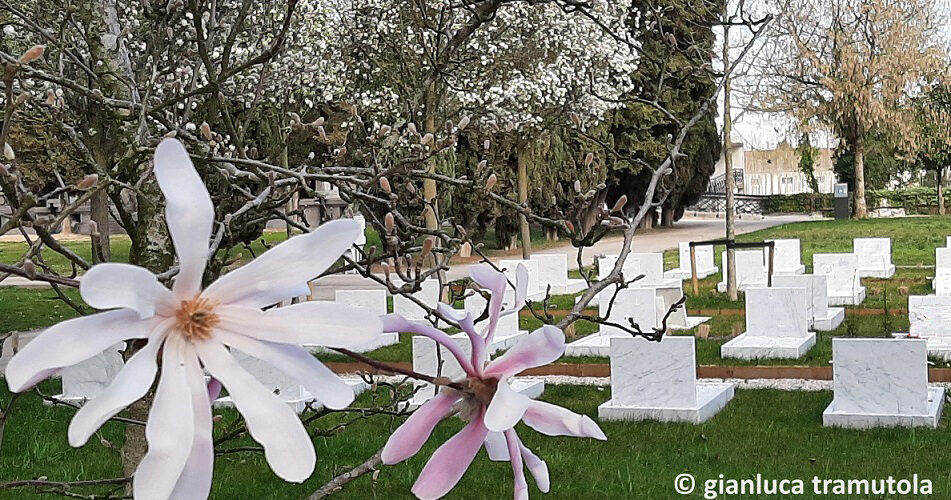 Giardino degli Angeli – Treviso (Italy) – landscape and planting design for a garden and burial ground  dedicated to children in the beautiful Monumental Cemetery of Treviso. The garden is surrounded by stone pine trees, rows of cypresses and a frame of Callery pears; a collection of deciduous magnolias and parallel filters of perennials and ornamental grasses contribute to give nature's relief to such a meaningful place for the community. Project commissioned by the Municipality of Treviso – Public works Department – to Contarina SPA cemetery service – landscape design Gianluca Tramutola, architecture Marco Santinon and Glauco Chiarini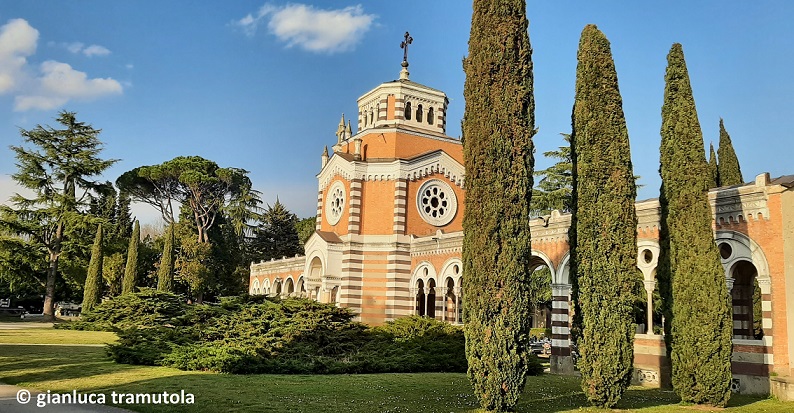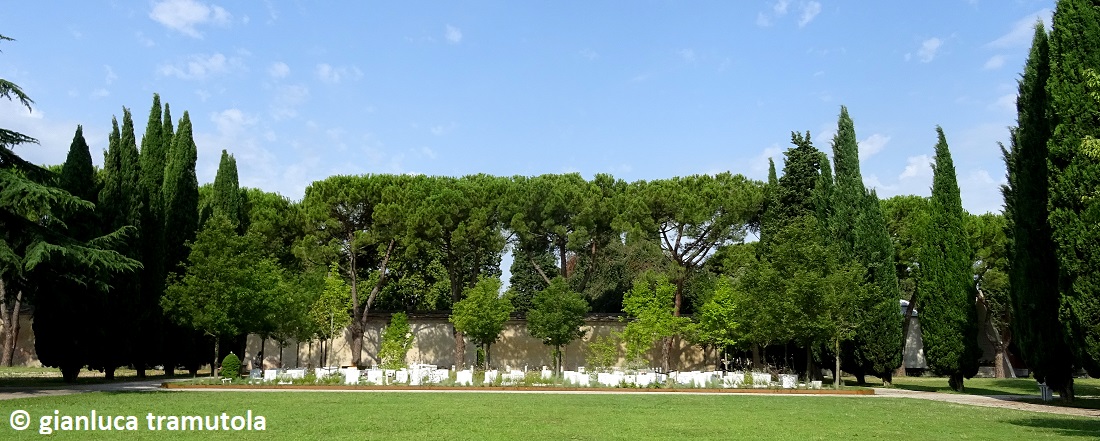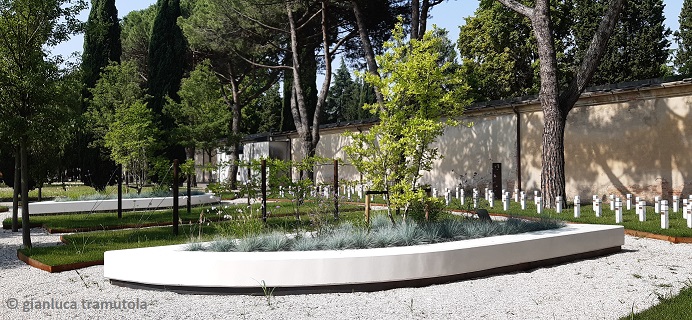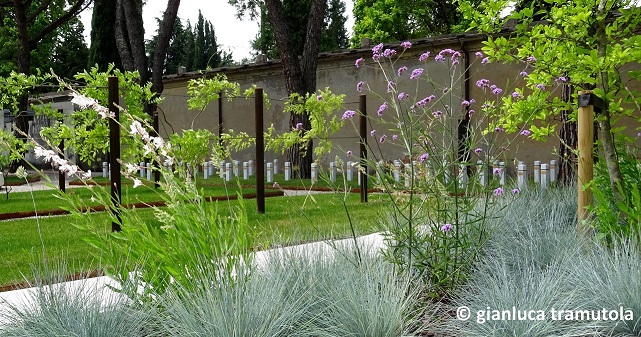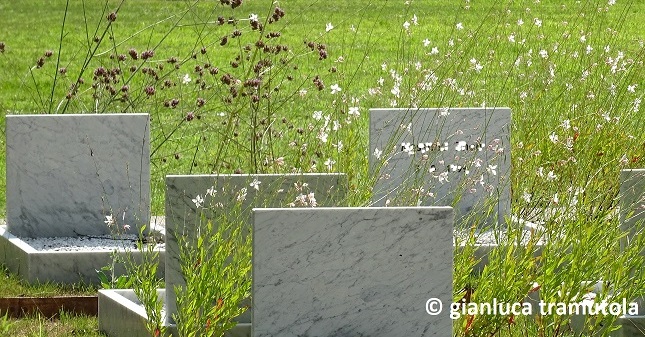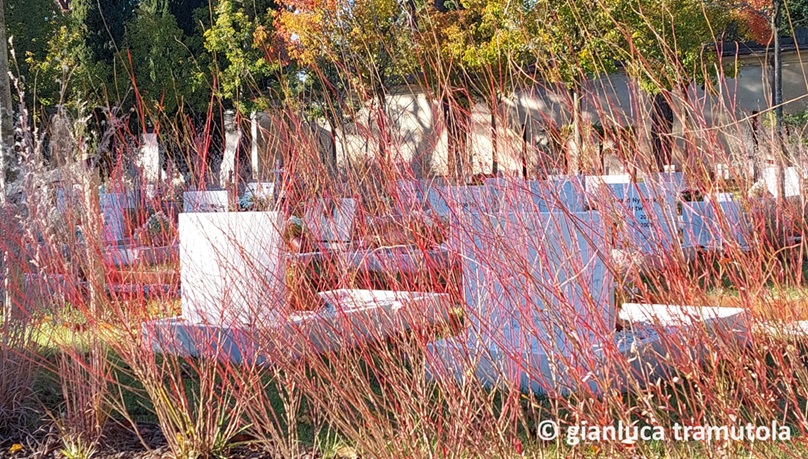 ---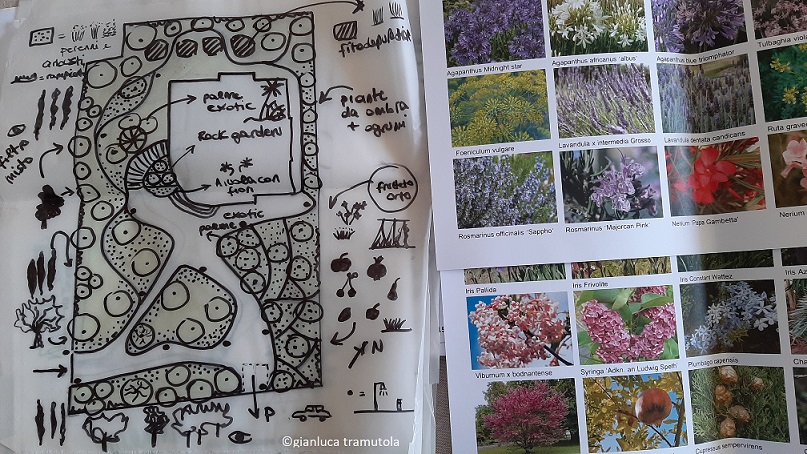 Villa in the countryside of Salento – Italy – landscape and planting design around a contemporary villa in the transforming landscape of Salento  – a garden acting like an "oasis" in a landscape that has lost most of its trees due to the Xylella fastidiosa bacterium affecting the trees of the vast olive groves – memories and new perspectives meet – ongoing
---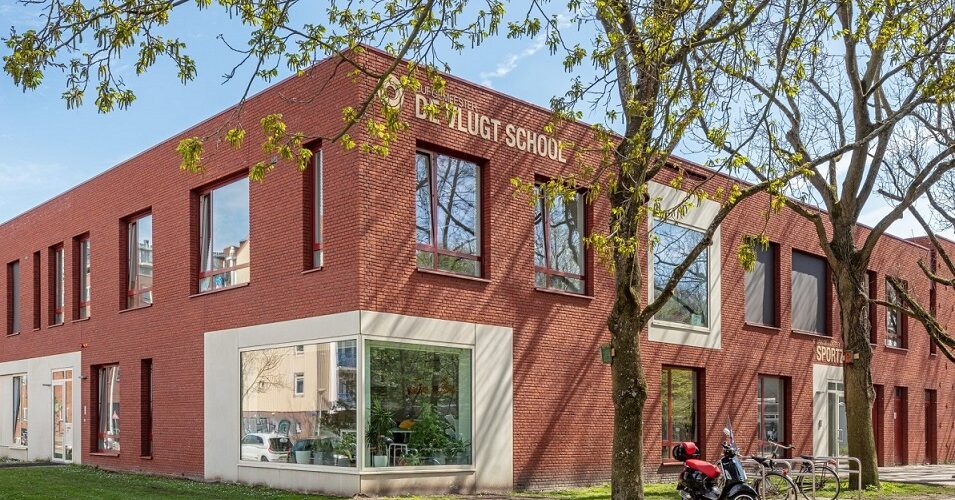 School courtyard and playground, Amsterdam (NL) – landscape and planting design for a school complex in Amsterdam (westelijk tuinsteden) – playing in a nature friendly environment program – with awareness about (rain)water use in public space. The awareness and education for the respect of nature start from school activities from childhood on. Nature heals and needs to be respected  – design for the Municipality of Amsterdam – Ruimte en duurzaamheid – Slotermeer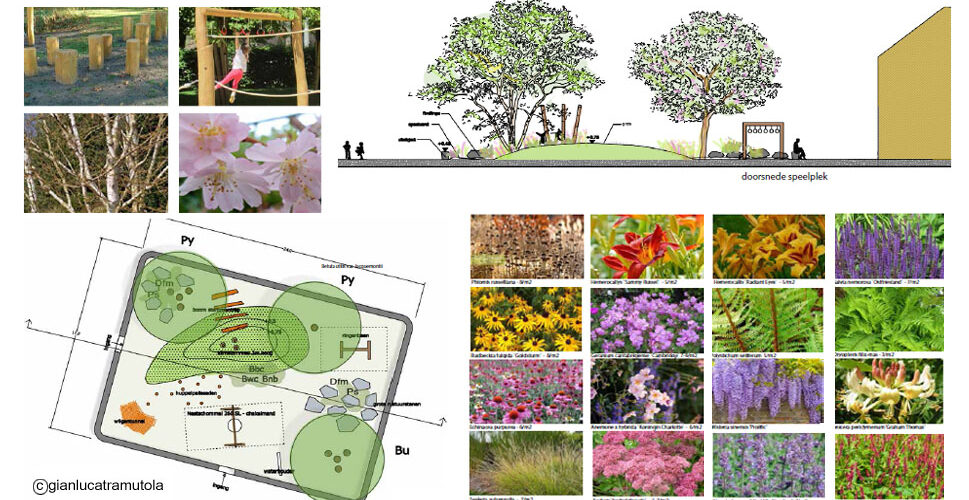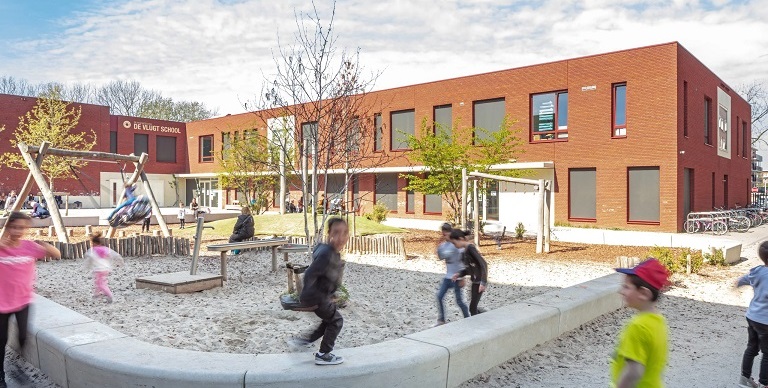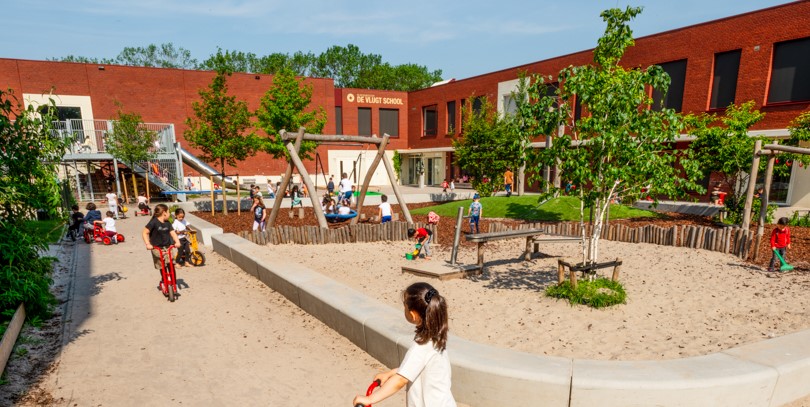 ---

Park of the Old Town Walls (Parco delle Mura Urbiche), Lecce (Italy) – As result of the excavation of the old original moat and the restoration of a surviving imposing stretch of the 16th century town walls, a new park is a further contribution to the urban green structure  of the city. The visibility of the town walls and that of the city's skyline plays an important role in the  sober design of the park, which has been updated according to the most recent archaeological excavations that have revealed the presence of a Roman road and a second Medieval moat. The park is connected by a cor-ten steel footbridge to the 16th century intra moenia historical Garden of Palazzo Giaconia whose stratified character, after decades of abandonment, has been carefully restored with exotic and typical Mediterranean plant species collections and the further introduction of a contemporary layer: a sensory garden – Project in collaboration with the Municipality of Lecce  (Comune di Lecce – Lavori Pubblici centro storico Arch. Patrizia Erroi) – completed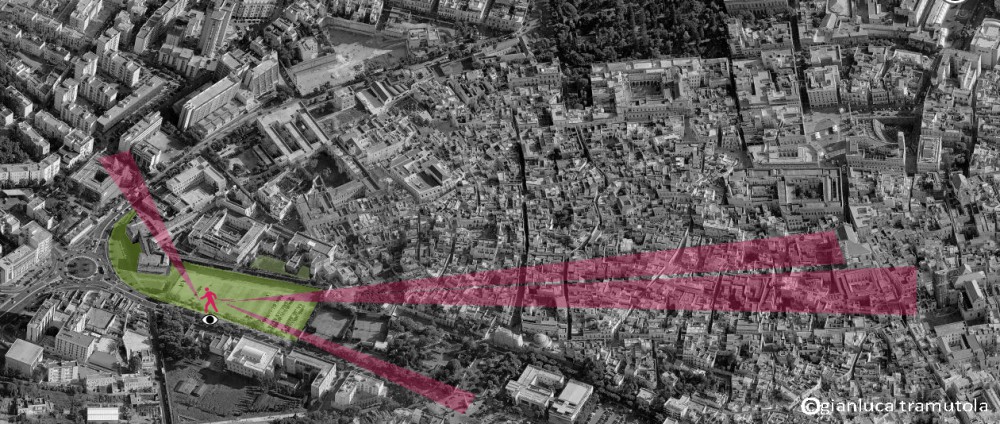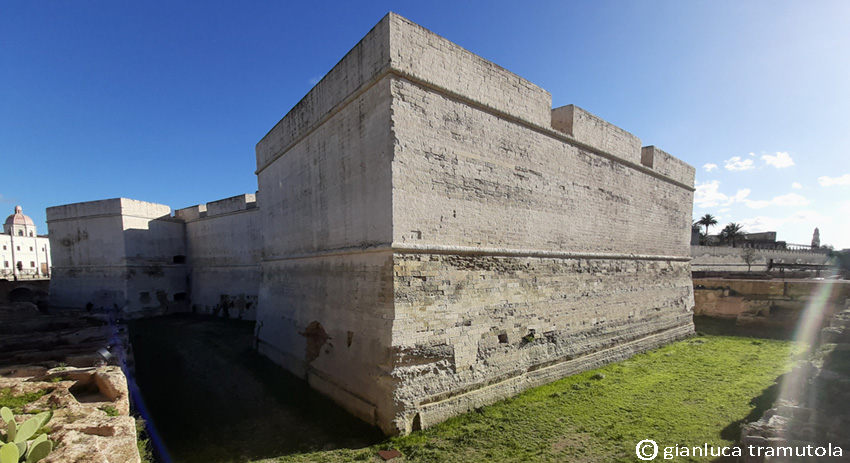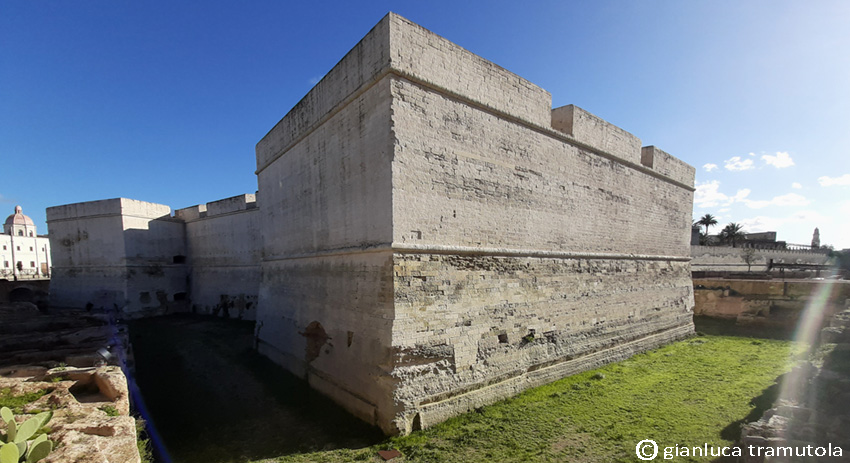 ↑  the moat and the bastions of the city walls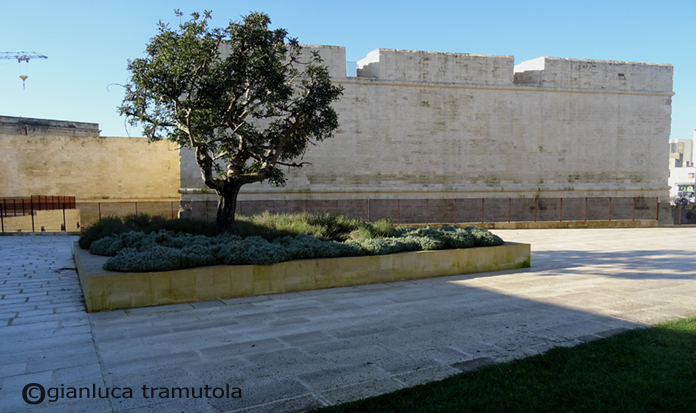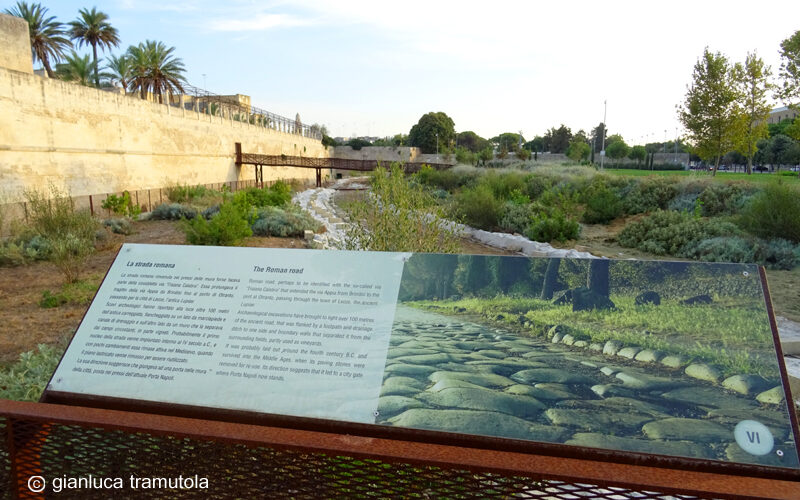 ↑  The Roman road before the restoration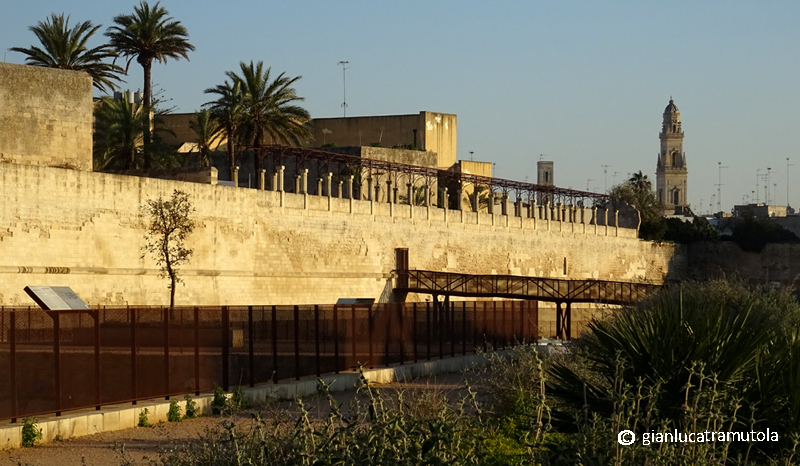 ↑  The corten steel footbridge to Palazzo Giaconia`s garden and the restored pergola on the walls which is a real belvedere on the park…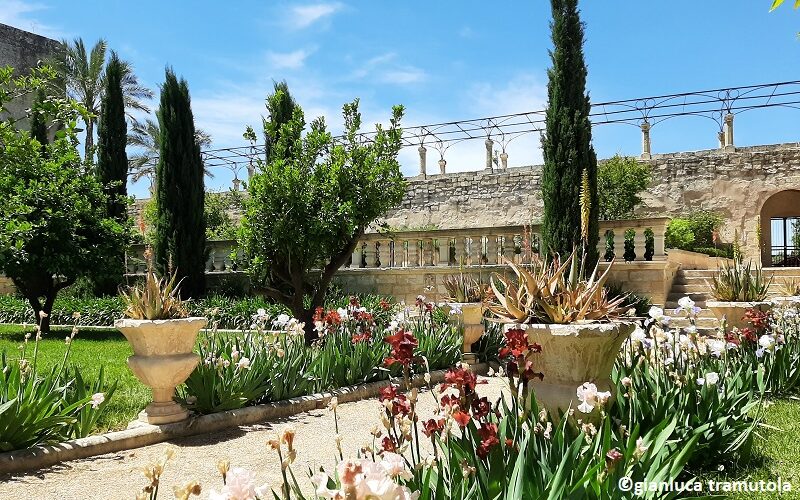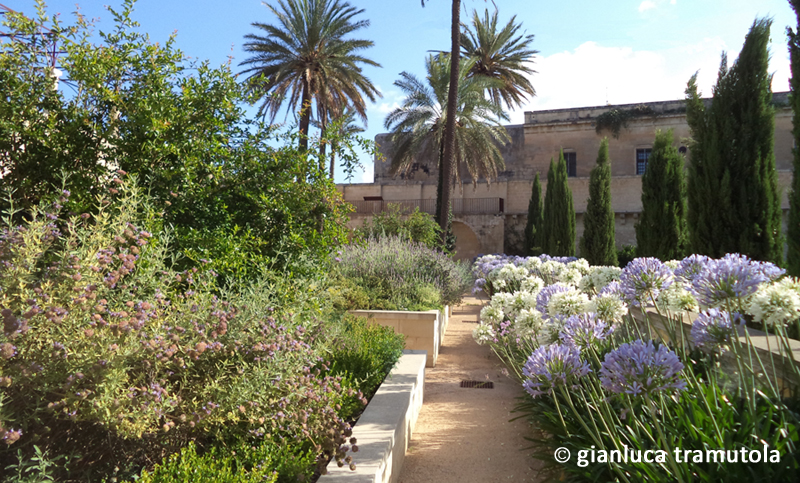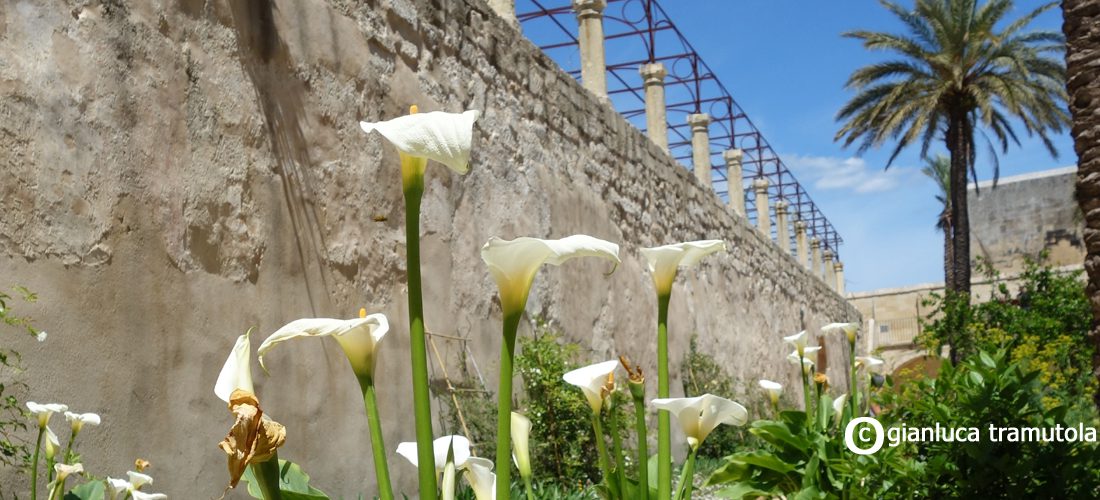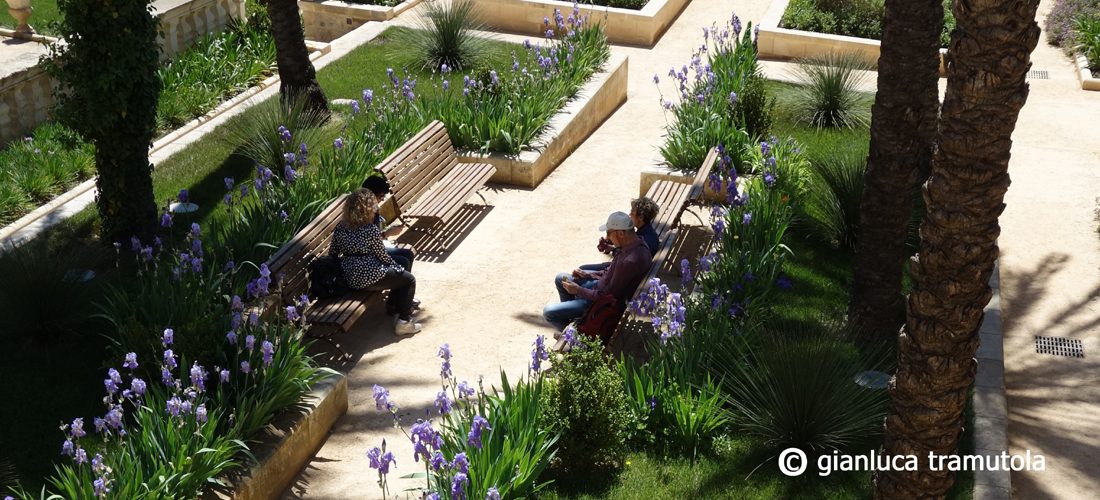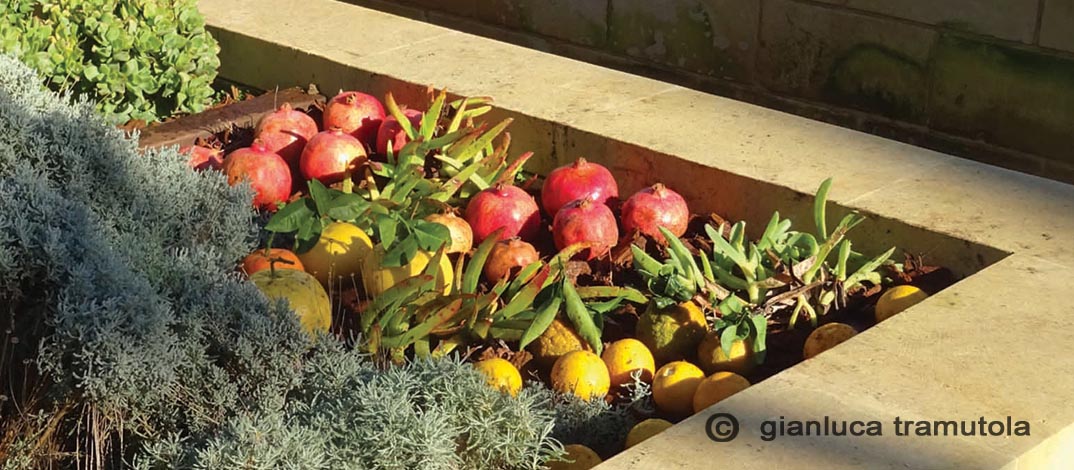 ↑  Sensory garden: perennials, shrubs and trees are arranged in a regular grid. Fruits, pine cones, seed pods, berries from the park are displayed…  ↓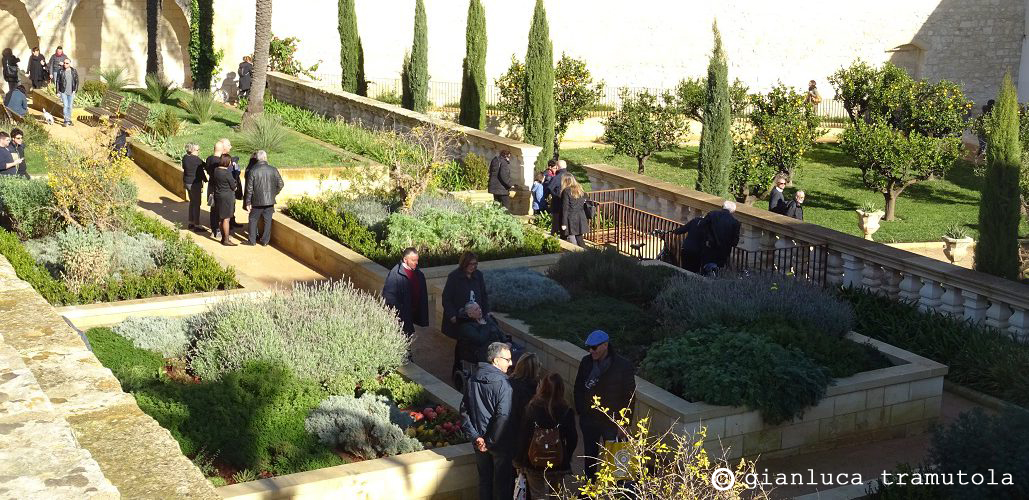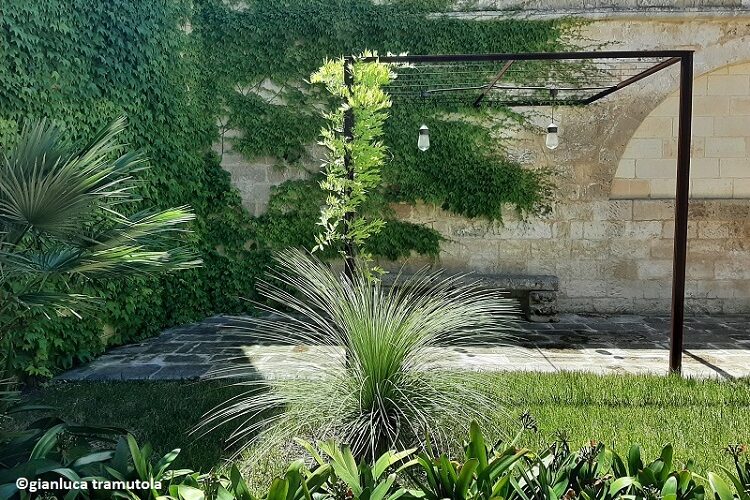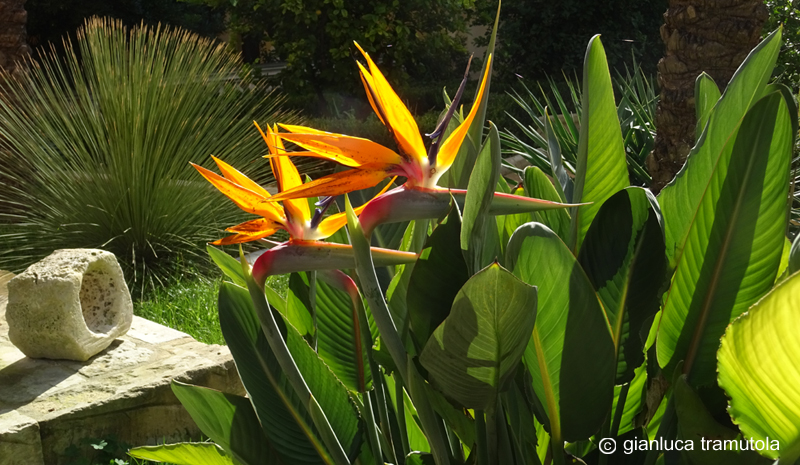 ---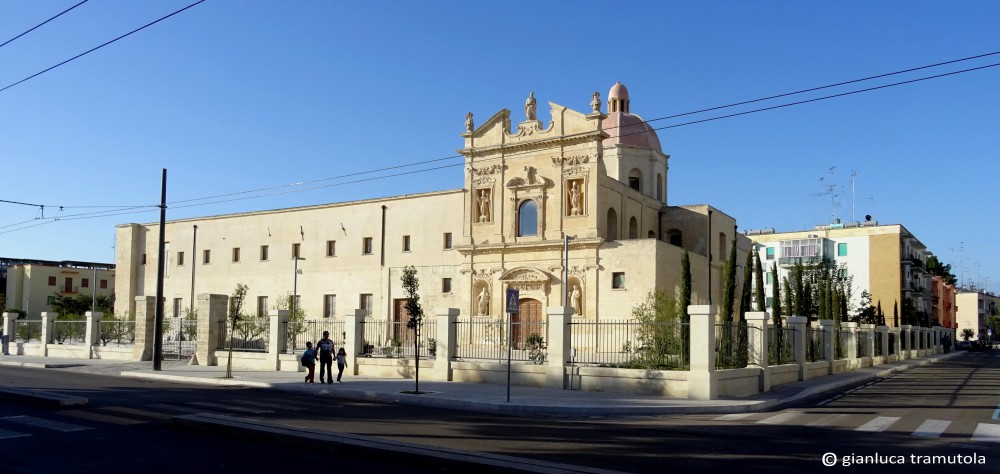 17th Century Augustinian Convent and Church – Open spaces and gardens, Lecce (Italy) – ex Convento degli Agostiniani,  Il Giardino di Ogni Bene – After a long period of neglect the Monastery and the Church (1649) were restored in the last years, the gardens and open spaces were totally destroyed with no real traces of the former stratifications.  The project entails the (re)introduction of several productive gardens and new squares based on the fragmentary information found on old documents during the historical archive research phase and the further archeological excavations. The garden's current layout, with its clear division into rectangular beds arranged in a regular grid, suggests how it was set up in the past, making reference to similar reconstructions and restorations of monastery gardens. The choice of plants and trees was guided by a preference for species that are autochthonous and typical of the agrarian landscape of the Salento; old archive documents have proved a certain number of tree species being grown in the garden. The beautiful Convent and Church are used for public cultural activities. Project selected and rewarded with the funds of the "National Plan for the City" of the Italian Government in collaboration with the Municipality of Lecce (Comune di Lecce – Lavori Pubblici).  – completed
→  With the project Gianluca Tramutola received at 'Triennale di Milano'  the  first price for the City Brand & Tourism – Landscape Award 2018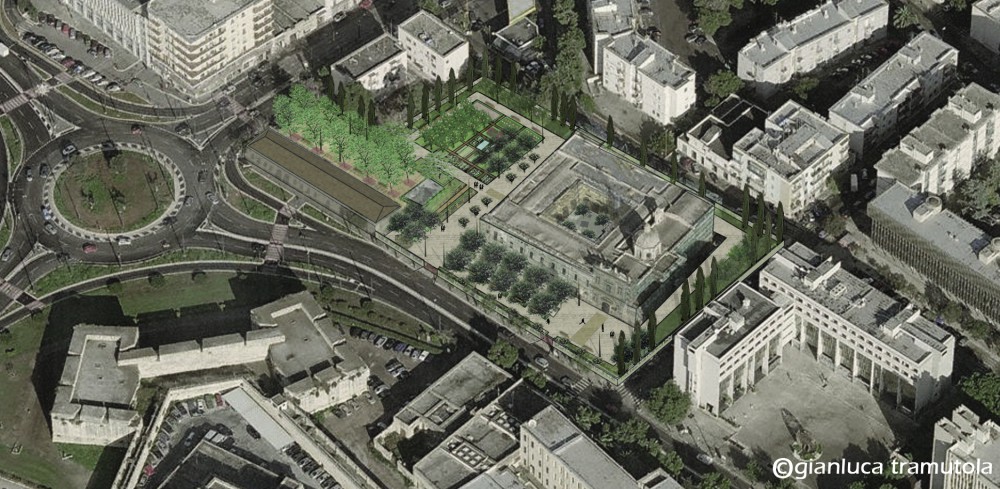 ↑  bird's- eye view – "National Plan for the City" phase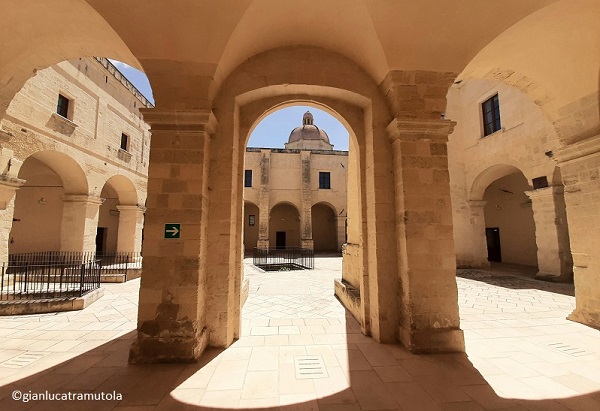 ↑ the cloister with the underground cistern opening in the center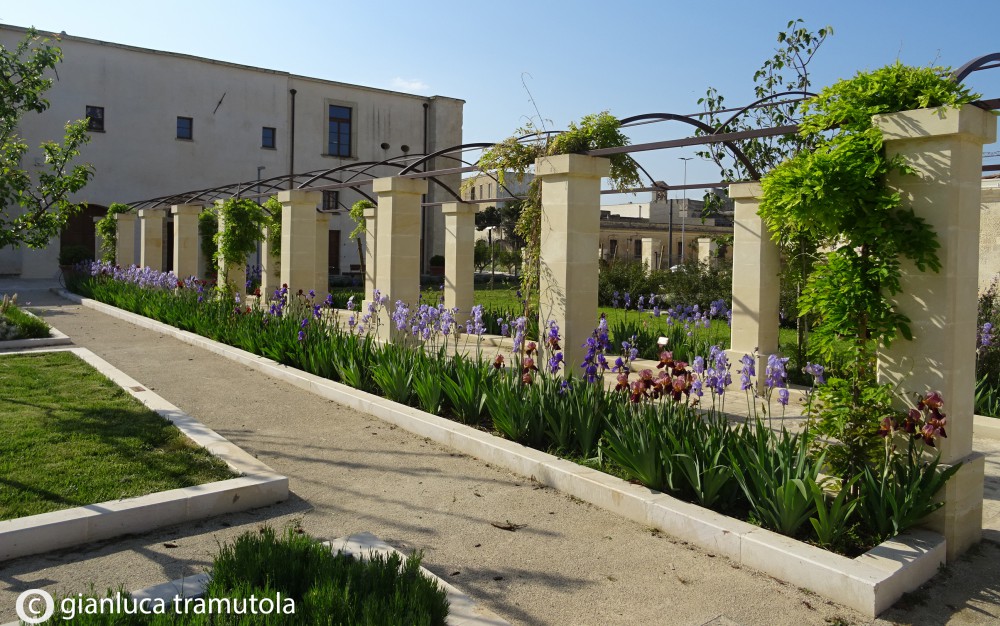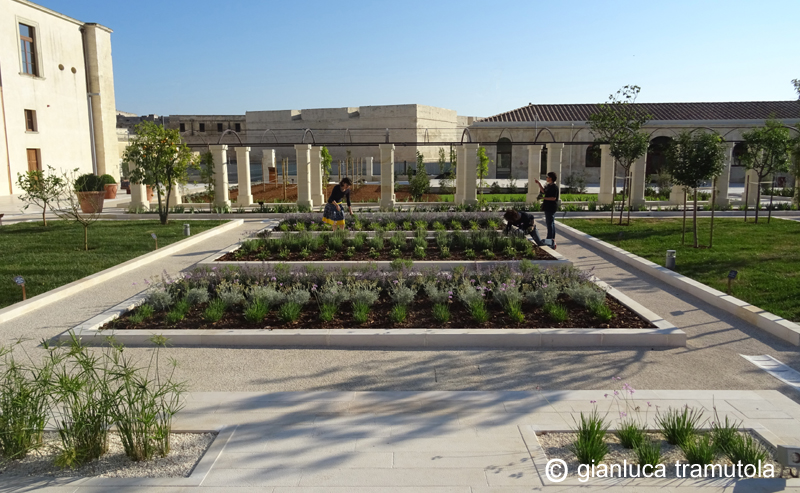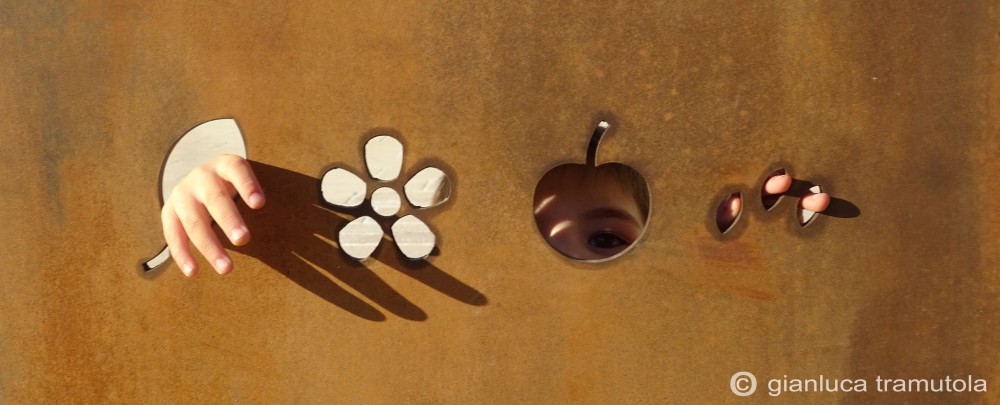 ↑ Gianluca Tramutola designed also the custom-made cor-ten steel urban furniture which adds a new contemporary layer in a place of relevant cultural and historical value ↓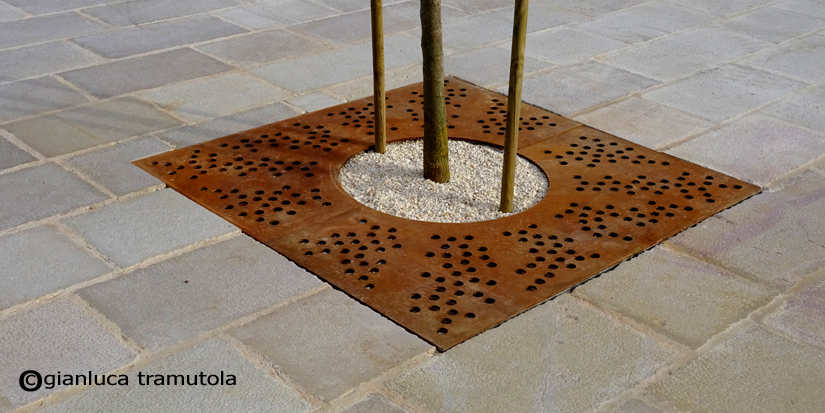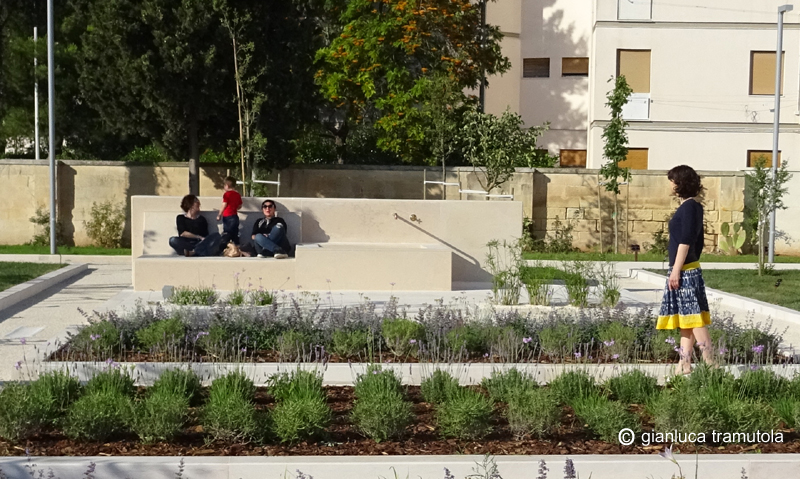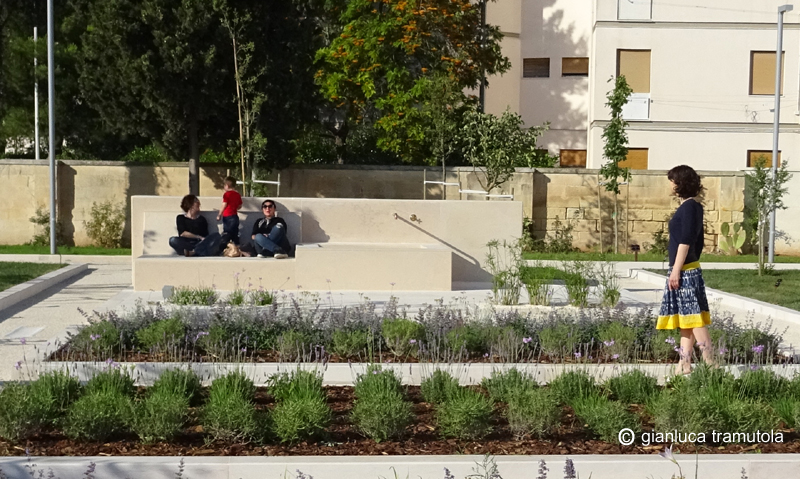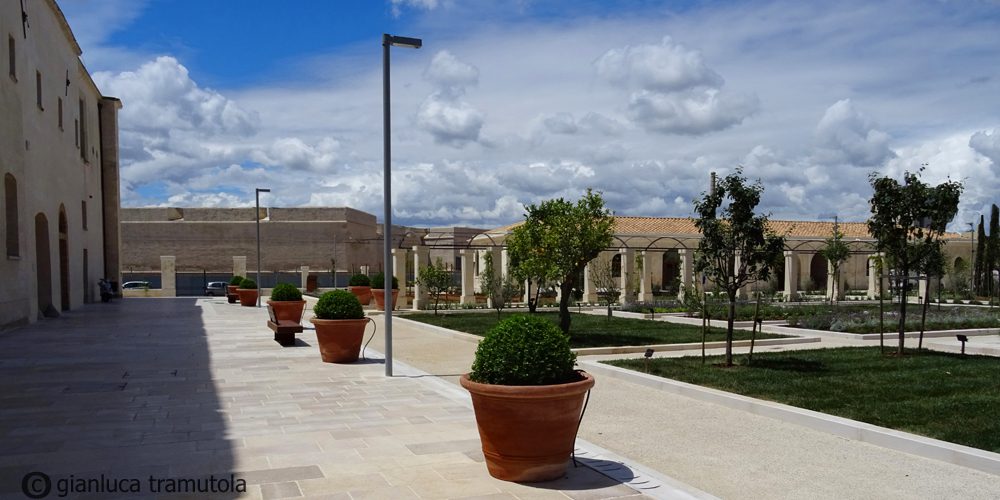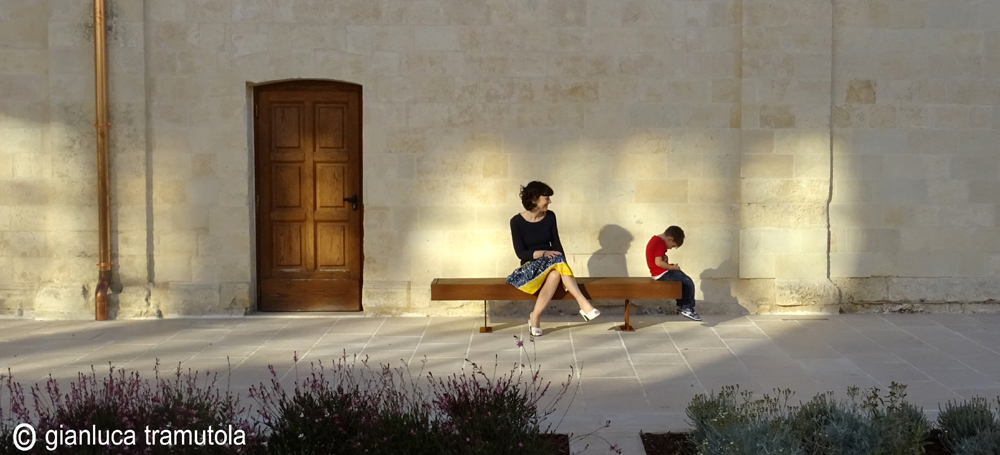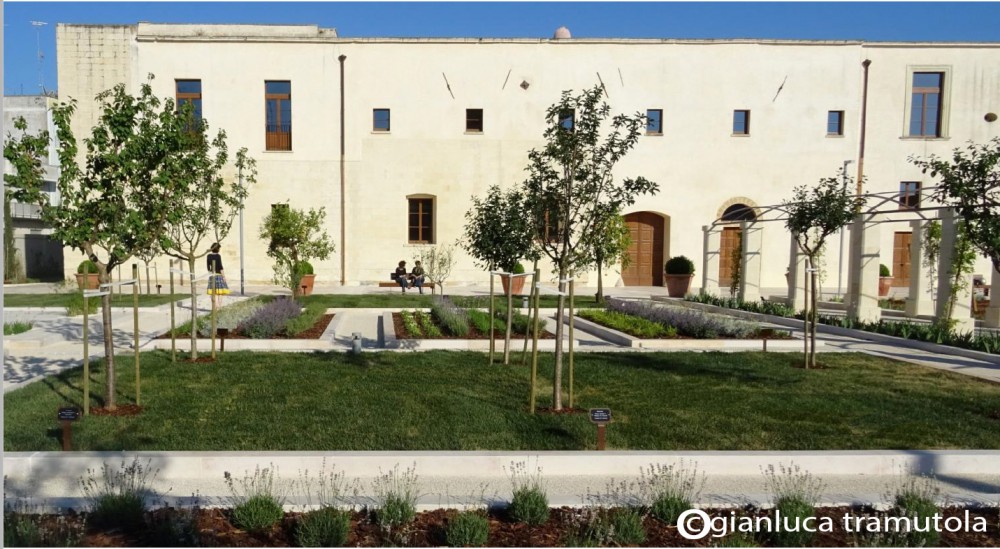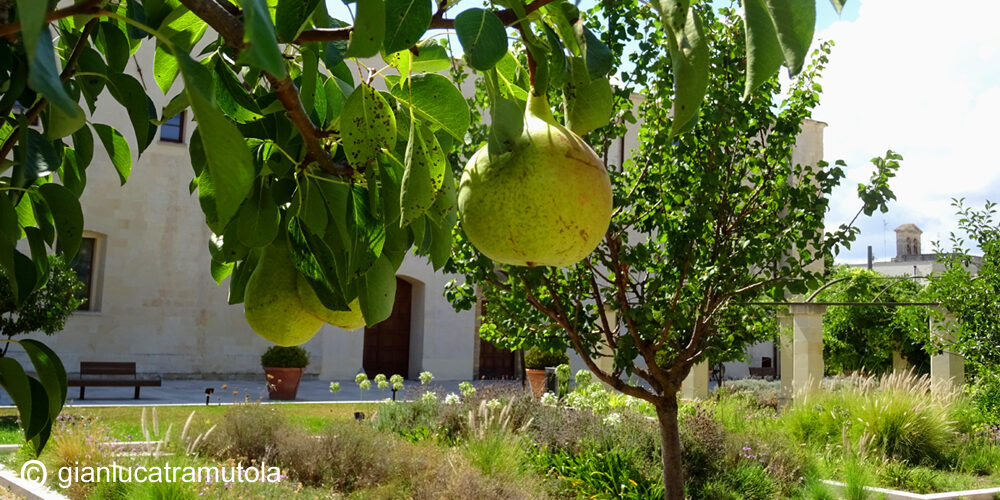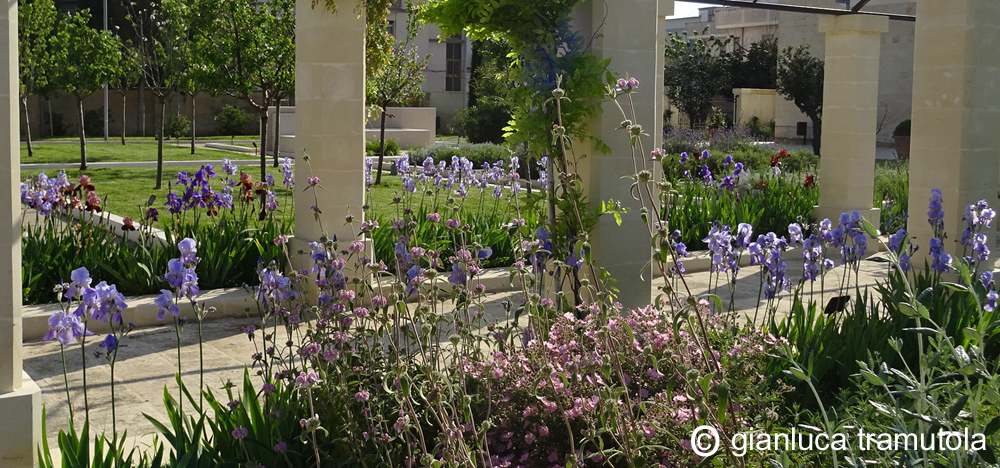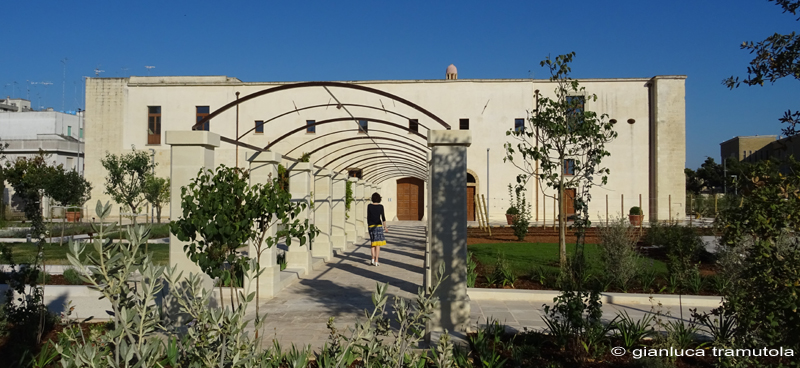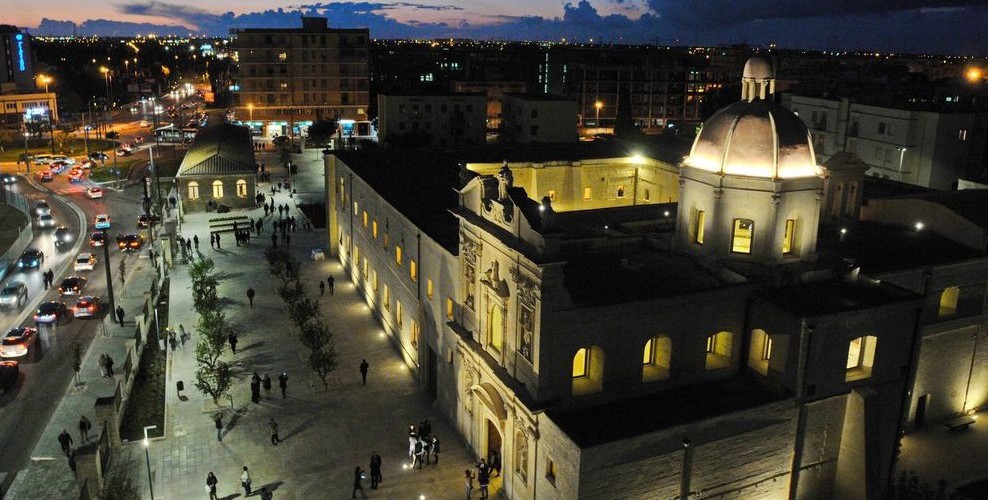 ---

The Library of Trees Park – BAM (Parco La biblioteca degli alberi), Milan (Italy) – A new multifunctional public park in the urban transformation area of ​​Porta Nuova in central Milan. The park acts as a new contemporary form of botanical garden with the use of three design tools: the web of linear paths, the "circular forests" and the irregular fields. Together they make up a living mosaic of collections of plants and trees with several leisure and cultural functions – masterplan phase design and definitive research on trees, collaboration for the project by Inside Outside Petra Blaisse – completed
---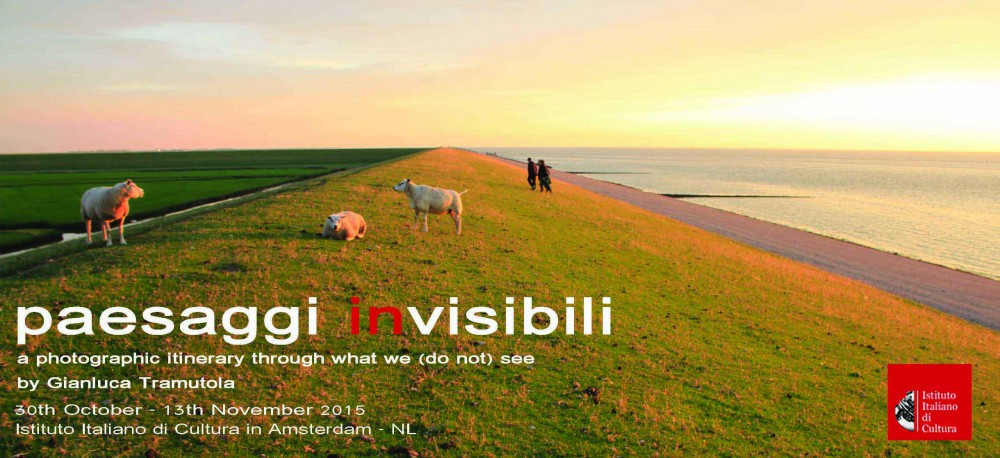 paesaggi invisibili   I   invisible landscapes   I   onzichtbare landschappen
A photographic narrative itinerary and lectures through what we (do not) see.
Exhibition and lecture by Gianluca Tramutola –  Istituto Italiano di Cultura di Amsterdam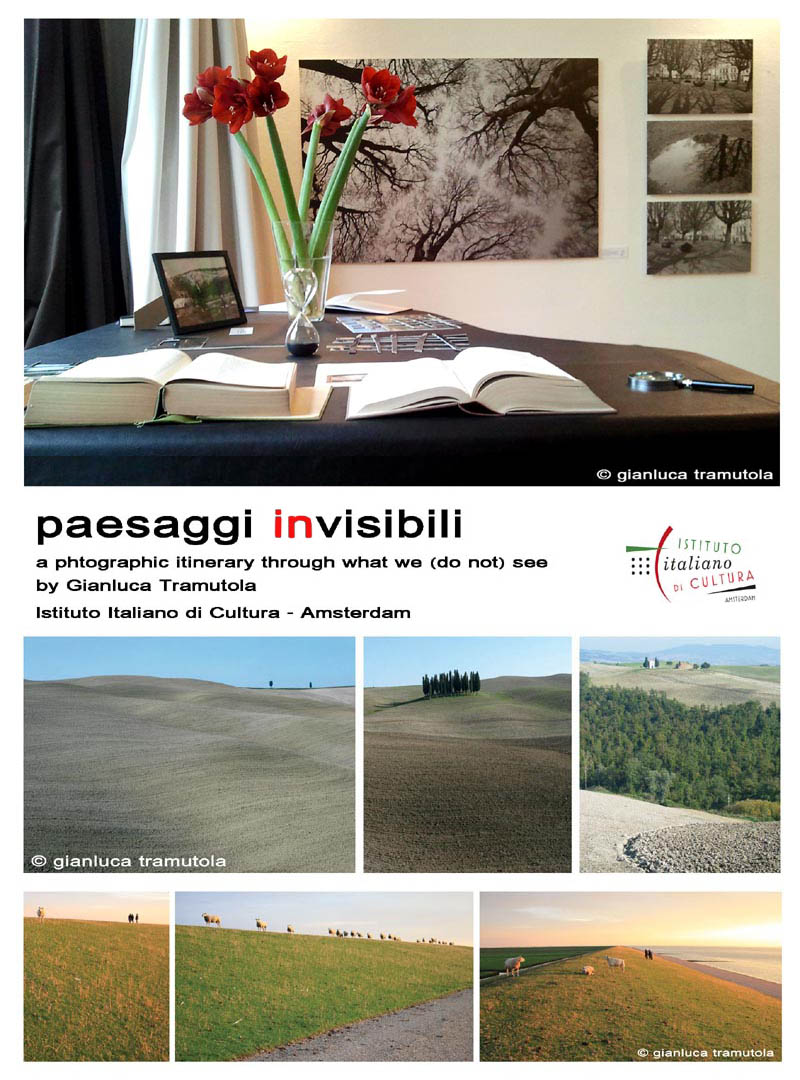 →  about landscape perception and critical thinking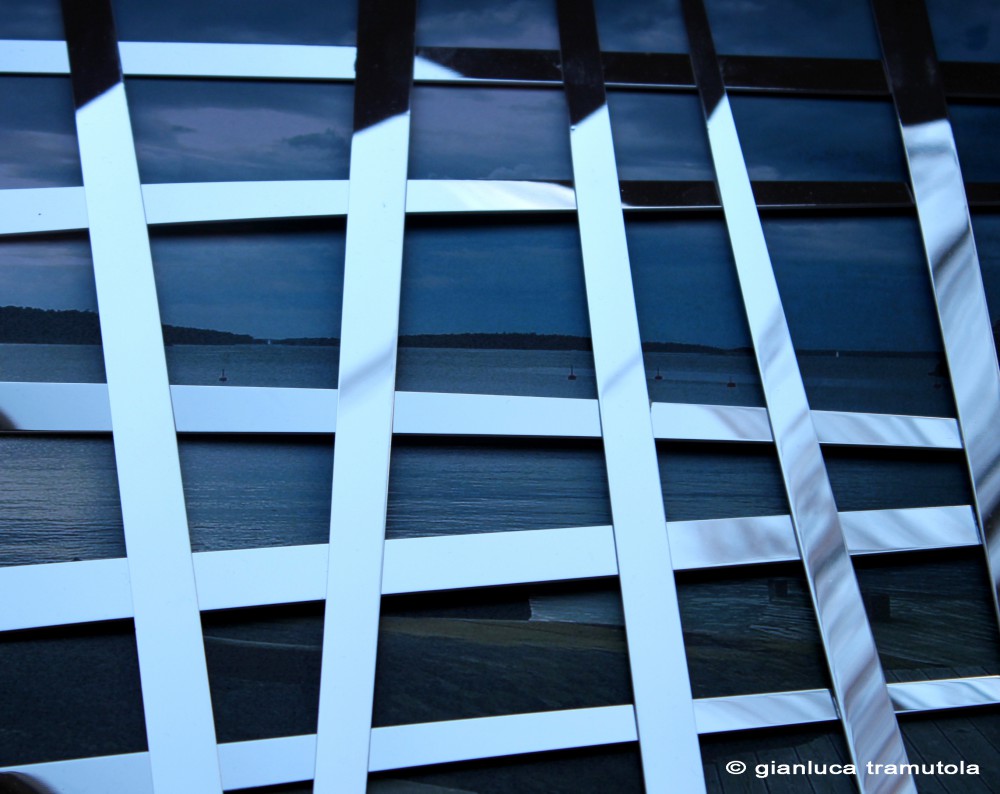 ---
Edam (The Netherlands) – insertion of a new metal fence around the historical sea lock in the canal harbour of the picturesque  village in North Holland, landscape analysis and furniture design – study for Copijn landscape architects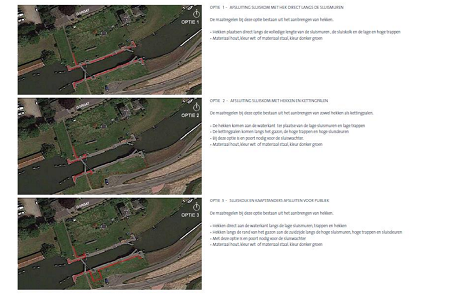 ---

Courtyards and gardens, Mierlo (The Netherlands) – Several courtyards with private and public use around a new development for elderly people. The careful design of the structure of the courtyards with winding and easily recognizable paths is thought for the use by old people with diversified levels of autonomy. The introduction of special planting schemes is meant to create a real healing garden – Design for MTD landscape architects – built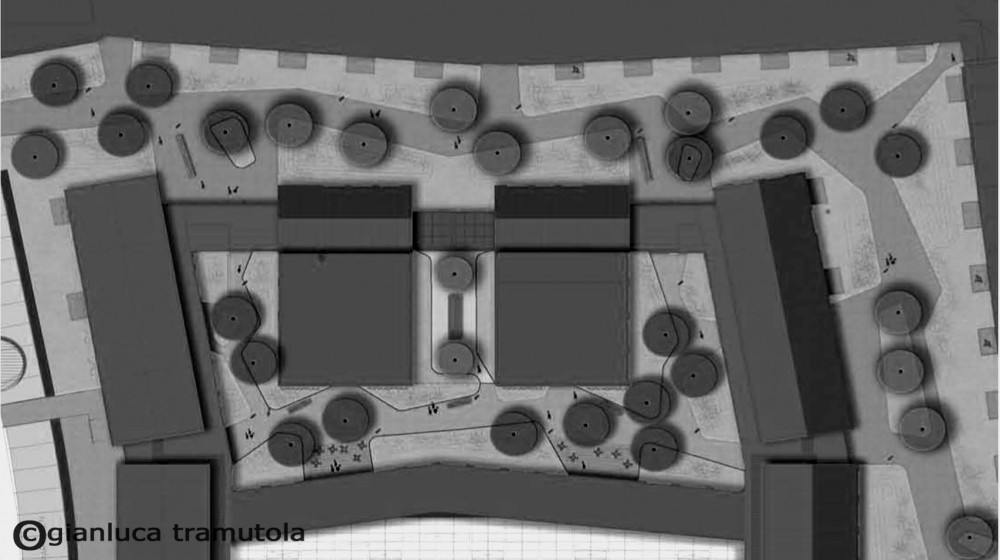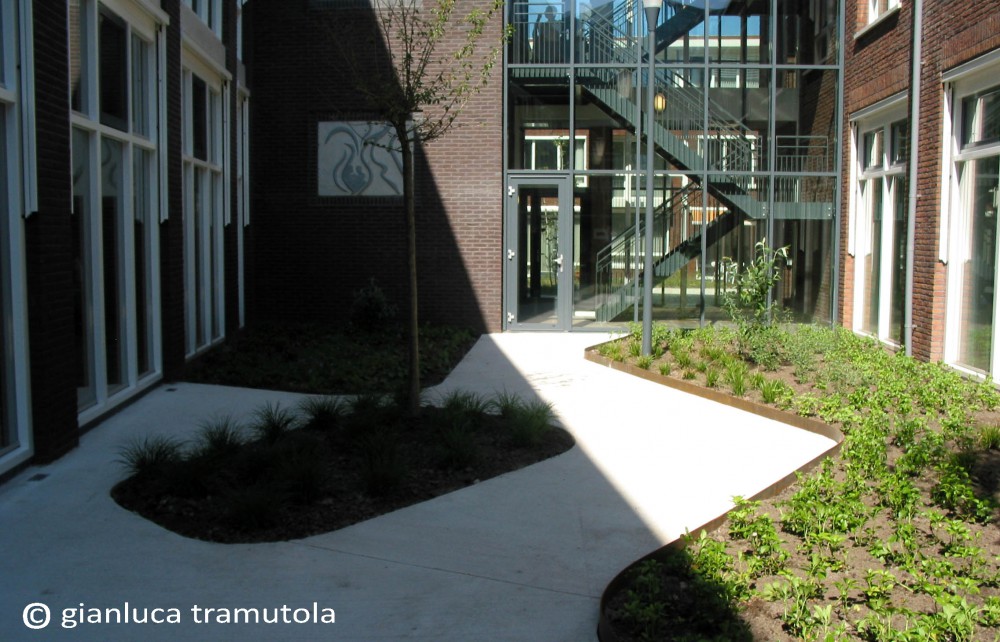 ---

Metal tree grate – Koemarkt square, Purmerend (The Netherlands) – Due to a necessary urban destination change, the old historic livestock market (literally the cows' market) in the old city center, finds a new identity as a square for cultural and leisure activities. The tree grate design around the elm trees remind the presence of the cows that were sold for centuries in the market, being one of the most important commercial hub in North Holland – Design for MTD landscape architects – built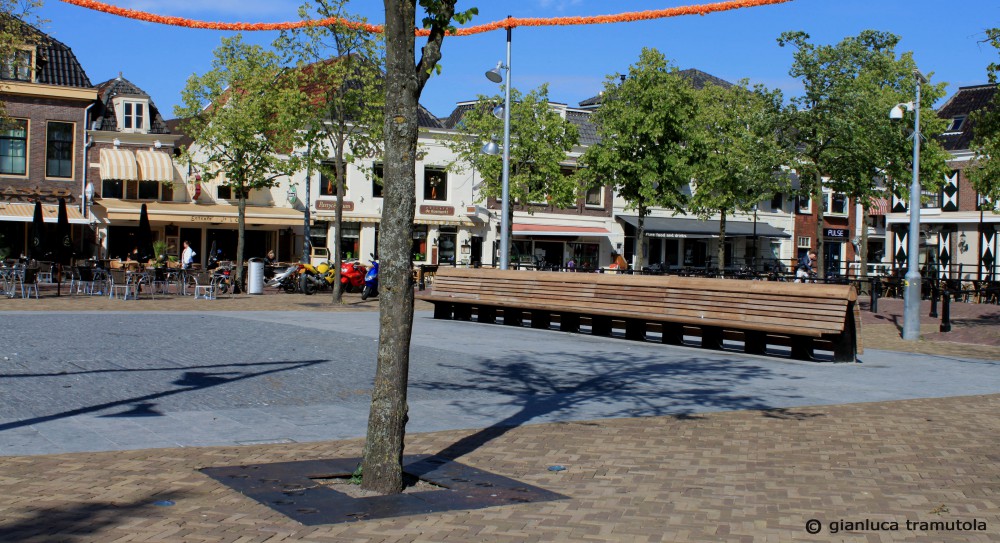 ---

Swamp park Tilburg (The Netherlands) – a linear park with various water retention and infiltration areas solve the functional need to convey into the ground the water run off resulting from the impermeable surfaces of the buildings and roads of a new residential district. The theme of the park finds its inspiration from the existing fragments of marshy and reclaimed landscapes around the site. Custom made urban furniture and bridges will be related to the theme of water in order to reinforce the identity of the park – Design for MTD landscape architects
---

Streetscape, Lecce (Italy) – The design and the image of the streets in European cities, research and guidelines – Public presentation during the preliminary phase of the bottom up participation process "LUA via Leuca in Lecce" for a regeneration project of an important road infrastructure of the city and its surroundings district. The research provides aspects regarding street design, the use of public space and cultural identity.
---

'Landscape Transformations and redevelopment along the South Eastern Railway (Ferrovie Sud Est), Zollino (Italy) – Research, vision and workshop on landscape perception along rail and road infrastructures. The focus is on the transformations and fragmentation of the landscape along the network of South Eastern Railway in the heel of Italy, that has the peculiarity of connecting the stations that were/are significant for the shipping of agricultural products – The landscape vision is linked to the reuse strategies of no longer functional station buildings along the network led by Association Rete dei Caselli Sud Est – Presentation for Rete dei Caselli Sud Est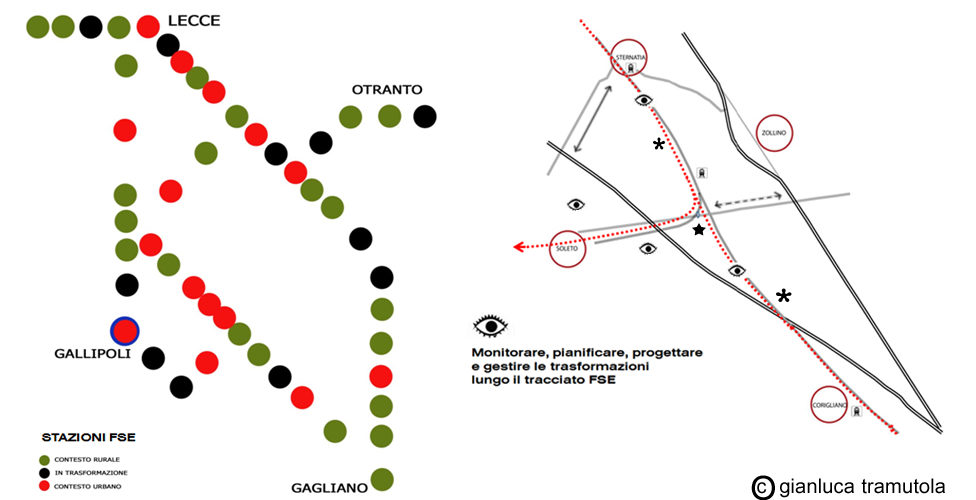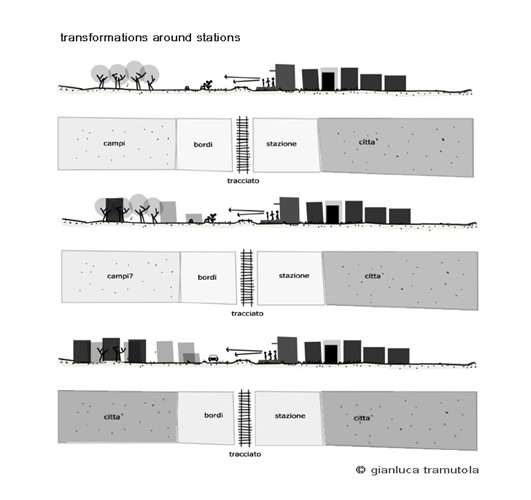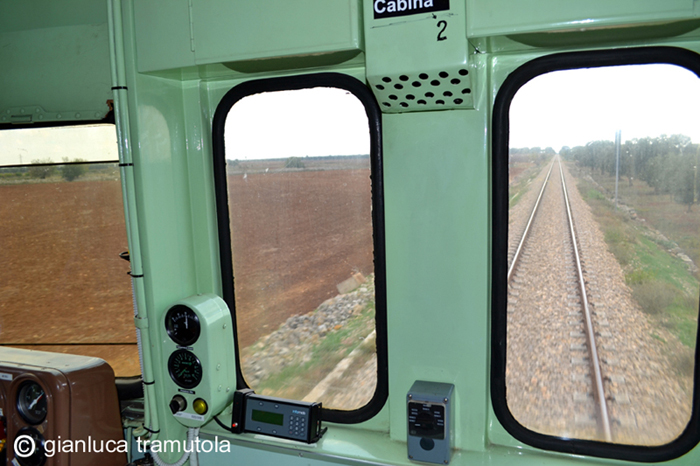 ---

Water signs (Segni d'acqua), Paduli Park (Italy) – Research and guidelines for the water system of the agricultural park. An innovative bottom-up participatory pilot project process within the landscape plan of the Apulia Region for a multifunctional agriculture park in an olive grove area of ​​5500 hectares in the heel of Italy. Water Signs studies the guidelines for a possible reconstruction and improvement of the water system in the endorheic basins of the karst landscape. The park was the Italian candidate project for the Landscape Award of the Council of Europe in 2015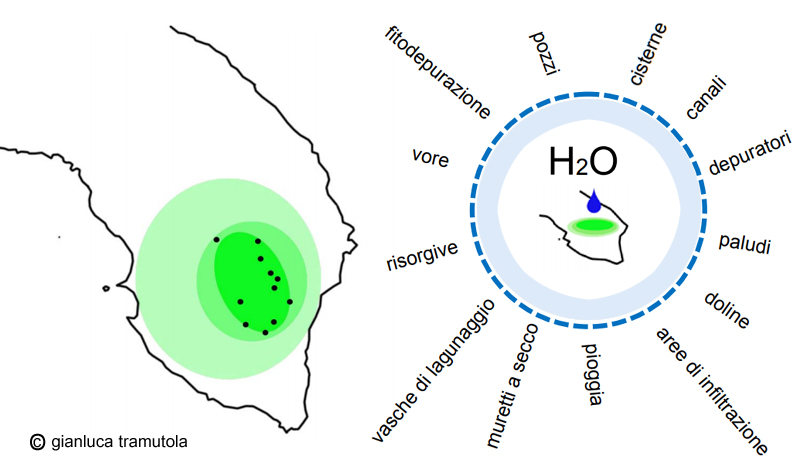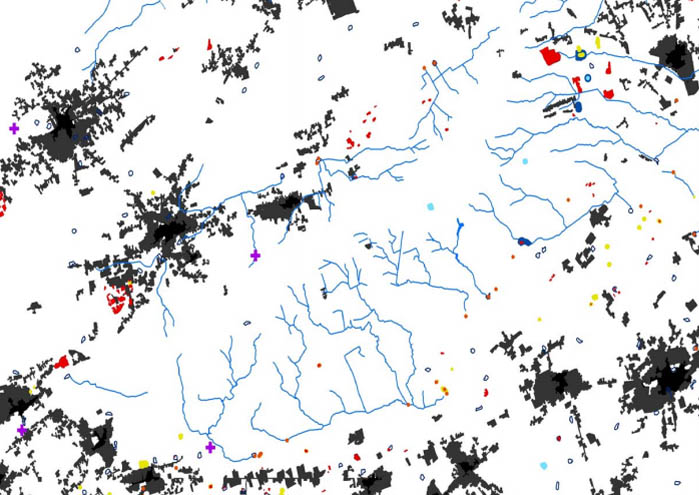 ↑  endorheic water system

Nociglia (Italy) at Open Urban Laboratory Superpaduli 2009 (Park Paduli) Gianluca Tramutola and Minke Mulder  gave their contribution with the presentation about the "Development strategies and transformations of Dutch landscapes'
---

Poincare roof gardens, Paris (France) – Several roof gardens on three floors in a  modern building in the city center of Paris are designed with the clear intention to extend and connect the interior more intimate space of the house with the open terraces surrounded by the amazing Paris skyline – Design for Inside Outside Petra Blaisse
---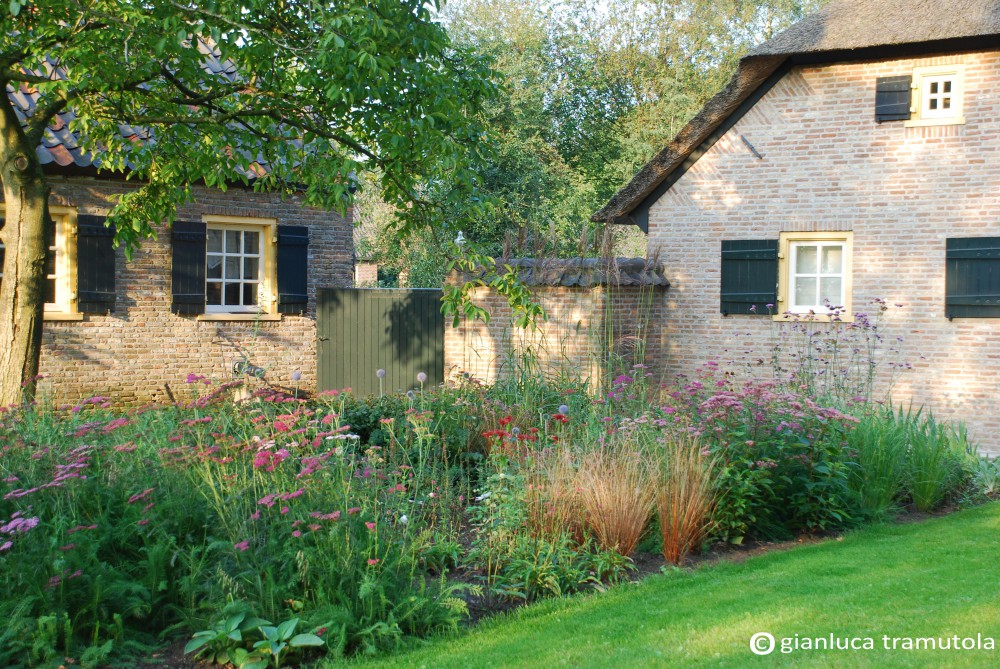 Private garden, Berlicum (The Netherlands) – A garden around a former farmhouse in the countryside of the Dutch Province Brabant. The garden is specially designed in order to connect the private space around the building with the beautiful open landscape around the farm with the introduction of a system of formal hedges, rows and clumps of fruit trees. A further contribution is the design of an herbaceous perennial border and that of a custom made steel and wood bench around the swimming pool – Design for MTD Landscape Architects – built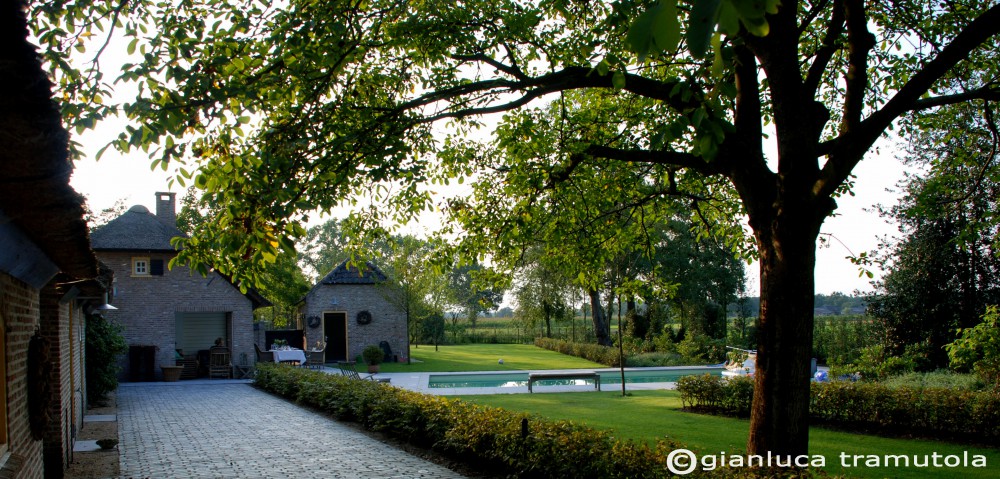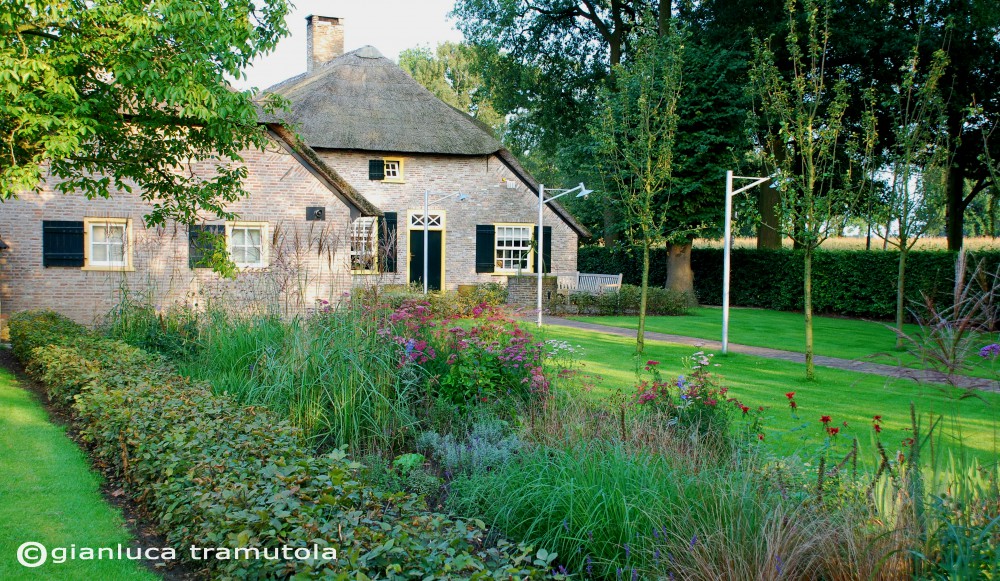 ---

Countryside estate, Salento (Italy) – Masterplan, landscape plan and garden design around a 16th century manor in the countryside of Salento. Inspired by the historical layout of the parceling of the fields, the plan creates a hierarchy among olive groves, vineyards, orchards, and new possible building sites. A secret garden in a walled secluded citrus grove gives space for a contemporary layer in this place of great historical value – in progress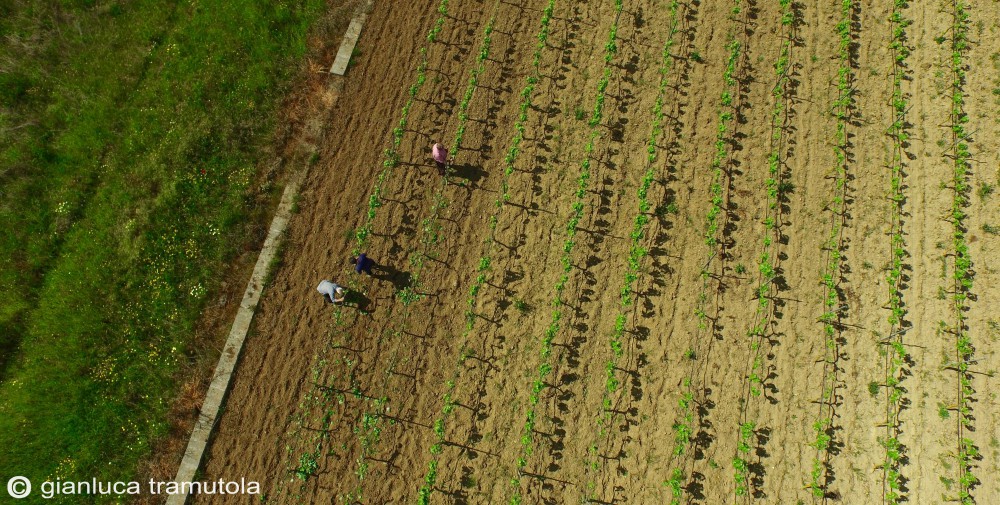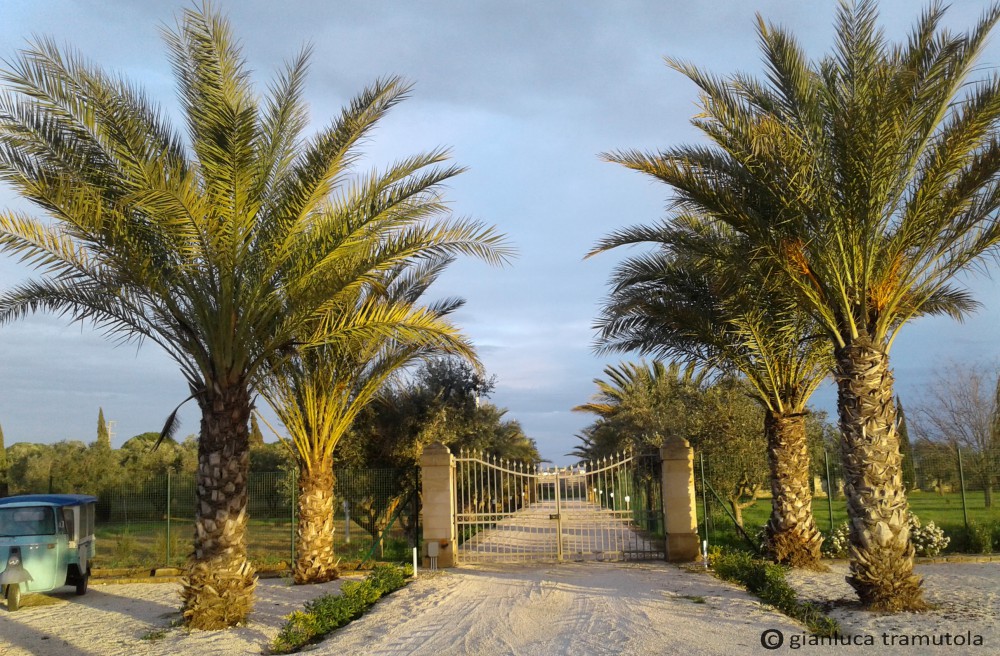 ---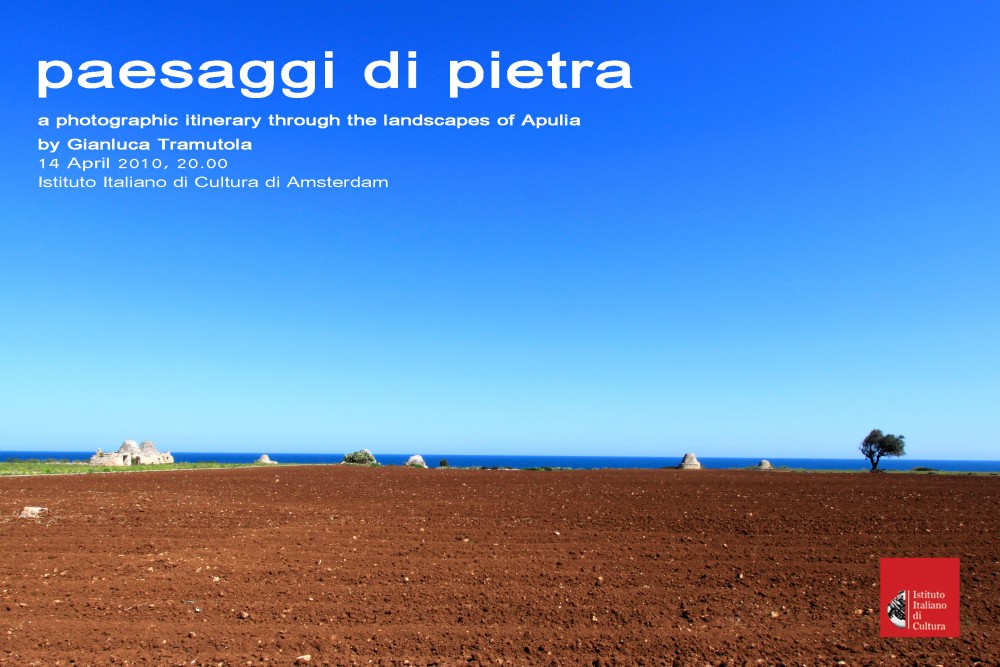 Paesaggi di Pietra (Stone Landscapes), Amsterdam – A public presentation of a photographic narrative itinerary about the cultural landscape of Apulia (Italy). The theme of the stone in the karst landscape of Apulia is the starting point to discover the cultural landscapes of the region and the importance of the stone in her heritage, economy and scenic beauty – Topics: landscape perception and identity – Presentation and photography by Gianluca Tramutola at the Italian Institute of Culture in Amsterdam
↑  vineyards, trulli and dry stone walls in Valle d'Itria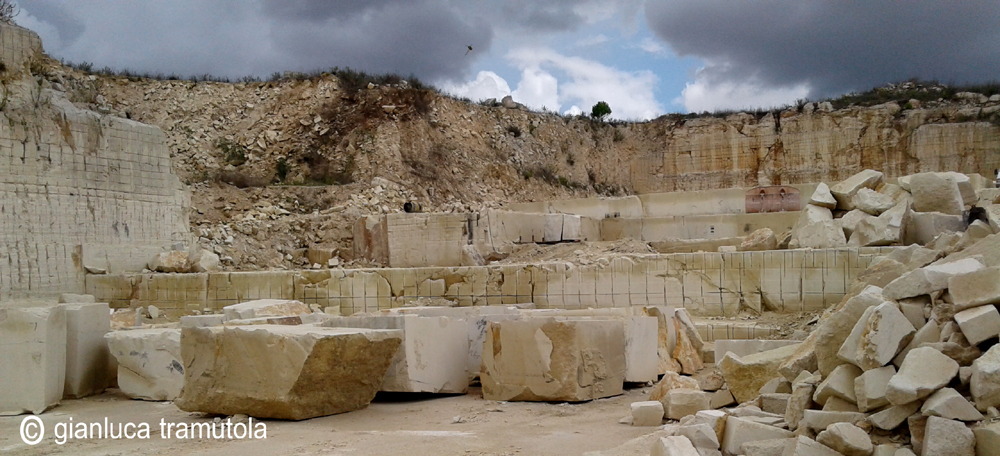 ↑  stone quarries between Cursi and Melpignano
---
Botanical gardens masterplan, Cerignola (Italy) – Based on the local spatial identity and the agricultural traditions of the site, this contemporary interpretation of a Botanical Garden is organized with several collections of Mediterranean plants, productive and ornamental gardens – Design for the Faculty of Agriculture, University of Foggia – collaboration for the design of the info point: Architects Studio Metamor
---

Reclamation of a former sand quarry, Bazzano (Italy) – An arboretum in a formal arrangement is organized in regular rectangular plots with several autochthonous species of trees. The design solution aims to solve the water drainage problems and at the same time it marks a distinct image in the park where more natural landscape style lines dominate – Design collaboration for Studio Silva – built
---

Urban Forestry project, Mirandola (Italy) – the design of new forest parcels  have the aim of integrating the ambitious masterplan of the new green belt around the city center of Mirandola – Design collaboration with Studio Silva – Rita Bega
---

Landscaping of a new road infrastructure, Forli (Italy) – A perception analysis and landscaping for a new road infrastructure in highly fragmented urban and rural landscapes. Landscape Design and planting schemes – Design collaboration for Studio Silva
---
copyright © 2023 Gianluca Tramutola –  landscape consultancy & design